Last updated on February 1, 2017.


---
25th Annual Oscar Party:
"AND THE WINNER IS..."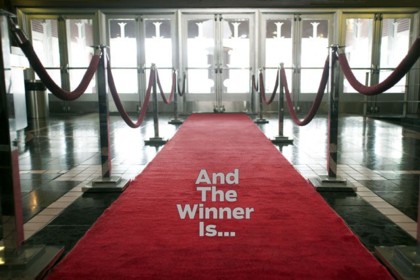 Will your favorite flick win? Join the Washington, DC Film Society at its 25th Annual Party FUN-raiser, "AND THE WINNER IS…"! Cheer the stars with fellow film fans on Oscars Night! The fun starts Sunday, February 26, 2017 at our favorite locale, the Arlington Cinema 'N' Drafthouse, (2903 Columbia Pike, Arlington, VA). Tickets are on sale at 6:30pm; doors open at 7:00pm. Preceding the Oscars at 8:30pm is the red carpet/pre-Oscar show.

Tickets are on sale now. More details here including ticket ordering information.

A list of items in the silent auction will be available soon.


---
Join the DC Film Society!
Half-year memberships are available NOW for December 1, 2016-May 31, 2017. Go to our membership page to sign up.

Be a part of the movie buzz and join the DC Film Society. Enjoy advance preview film screenings, discounts to Filmfest DC and many more benefits including our annual "And the Winner Is" Oscars event and "Coming Attractions Trailer Nights."


---
The Best of 2016 - Voting Results
The membership has spoken! Washington DC Film Society announces the results for the 16th annual vote for the Best of 2016.

Best Film: Moonlight
Best Director: Damien Chazelle, La La Land
Best Actor: Casey Affleck, Manchester By the Sea
Best Actress: Natalie Portman, Jackie
Best Supporting Actor: Jeff Bridges, Hell or High Water
Best Supporting Actress: Viola Davis, Fences
Best Foreign Language Film: Elle (France)


Thanks to all who voted!

See the Best of the Year page for past winners.


---
Visit Us on Facebook
---
Storyboard Newsletter
Check out the monthly Calendar of Events in the Storyboard newsletter and see what film events are going on around town.

The February Storyboard is now on the website.


---
The Cinema Lounge
The Cinema Lounge, a film discussion group, takes place at 7:00 PM at Teaism in Penn Quarter, 400 8th St., NW in Washington, DC (closest Metro stop is Archives, also near Metro Center and Gallery Place). NOTE: We will meet in the downstairs area. You do not need to be a member of the Washington DC Film Society to attend.

Upcoming discussions:
The Cinema Lounge meets Monday, February 20, 2017 at 7:00pm. Our topic is "Romantic Comedies." In honor of Valentine's Day, we'll examine the romantic comedy. From Lubitsch to Allen to Ephron to Apatow, romantic comedies have long been a Hollywood staple. Why have they remained popular? How have they changed through the years? What do we look for in these films, and what are some clichés we could do without?


---
NEW - Press Materials
Mission Statement and Fact Sheet


---