Last updated on February 1, 2018.


---
26th Annual Oscar Party:
"AND THE WINNER IS..."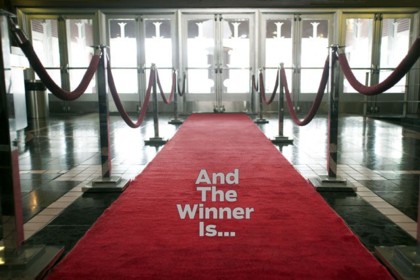 Will your favorite flick win? Join the Washington, DC Film Society at its 26th Annual Party FUN-raiser, "AND THE WINNER IS…"! Cheer the stars with fellow film fans on Oscars Night! The fun starts Sunday, March 4, 2018 at our favorite locale, the Arlington Cinema 'N' Drafthouse, (2903 Columbia Pike, Arlington, VA). Tickets are on sale at 6:00pm; doors open at 6:30pm. Preceding the Oscars at 8:00pm is the red carpet/pre-Oscar show.

Tickets will be on sale February 1. More details here.

A list of items in the Silent Auction will be available soon.


---
Join the DC Film Society!
Half-year memberships are available NOW for the six month period December 1, 2017-May 31, 2018. Go to our membership page to sign up.

Be a part of the movie buzz and join the DC Film Society. Enjoy advance preview film screenings, discounts to Filmfest DC and many more benefits including our annual "And the Winner Is" Oscars event and "Coming Attractions Trailer Nights."


---
The Best of 2017 - Voting Results
The membership has spoken! Washington DC Film Society announces the results for the 17th annual vote for the Best of 2017.

Best Film: Three Billboards Outside Ebbing, Missouri
Best Director: Guillermo del Toro, The Shape of Water
Best Actor: Gary Oldman, The Darkest Hour
Best Actress: Frances McDormand, Three Billboards Outside Ebbing, Missouri
Best Supporting Actor: Willem Dafoe, The Florida Project
Best Supporting Actress: A tie -- Allison Janney, I, Tonya and Laurie Metcalf, Lady Bird
Best Foreign Language Film: A Fantastic Woman (Chile)


Thanks to all who voted!



---
Visit Us on Facebook
---
Storyboard Newsletter
Check out the monthly Calendar of Events in the Storyboard newsletter and see what film events are going on around town.

The February Storyboard is now on the website.


---
The Cinema Lounge
The Cinema Lounge, a film discussion group, takes place at 7:00 PM at Teaism in Penn Quarter, 400 8th St., NW in Washington, DC (closest Metro stop is Archives, also near Metro Center and Gallery Place). NOTE: We will meet in the downstairs area. You do not need to be a member of the Washington DC Film Society to attend.

Upcoming discussions:
Monday, February 19, 2018 at 7:00pm
The Cinema Lounge meets Monday, February 19, 2018 at 7:00pm. Our topic is "Sex on Film." In its earliest days, Hollywood films were pretty open about sex for their time. Then in the 1930s, under threat of outside censorship, studios stuck to the "Hays Code" severely limiting what could be shown or discussed on screen. Clever filmmakers had to learn to go around the Code, implying and suggesting but going no further. In the 1950s, American theatergoers started seeking out foreign films, in part because they could show much more than Hollywood fare. Finally, in the late 60s, after years of weakening, the Code was revoked, replaced by the MPAA ratings system. Fifty years later, we can argue about how much freedom filmmakers truly do have. Also, with all that's available online, has sex on film lost its power? Is it provocative or merely titillating?


---
NEW - Press Materials
Mission Statement and Fact Sheet


---