COMING ATTRACTIONS
Winter Trailer Night 2017


---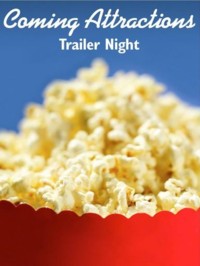 Date: Monday, November 6, 2017
7 - 9pm
(tickets on sale at 6:00pm)

Landmark's E Street Cinema
E Street NW betw 10th & 11th


MARK YOUR CALENDAR &
SHARE THIS WITH FRIENDS & CO-WORKERS!



---

The summer doesn't seem to want to leave, but the fall will be here soon and bring with it the end-of-the-year movies to entertain us and compete during the upcoming awards season. Preview the trailers on tap at the Washington, DC Film Society's twice-annual program, "COMING ATTRACTIONS TRAILER NIGHT, WINTER 2017." We'll highlight the winter blockbusters, indie faves, and awards hopefuls. We guarantee plenty of action and excitement. DC Film Society Director Michael Kyrioglou announced the date for COMING ATTRACTIONS will be Monday, November 6, 2017. Join us at Landmark's E Street Cinema (E Street, NW between 10th & 11th) from 7:00 p.m.-9:00 p.m. DC Film Critics Tim Gordon and Travis Hopson will bring the movie buzz and lead discussion on the trailers. You, the audience, get to vote on the movies you want to see (or escape from); we'll pass this information on to the studios.

Some of the 30 trailers we'll be showing may include Thor: Ragnarok, Greta Gerwig's Ladybird, Murder on the Orient Express with an all-star cast, Wonder, Star Wars: The Last Jedi, animated films Coco and Ferdinand, Pitch Perfect 3, Woody Allen's Wonder Wheel, The Greatest Showman with Hugh Jackman and Zac Efron, Jumanji: Welcome to the Jungle, Aaron Sorkin's Molly's Game, Downsizing from Alexander Payne with Alec Baldwin and Matt Damon, All the Money in the World from Ridley Scott, Guillermo del Toro's The Shape of Water, the Tonya Harding biopic I, Tonya, Chappaquiddick, Justice League, Taraji P. Henson in Proud Mary, and much more.

Tickets are only $3 for DC Film Socity Basic Members, FREE to Gold Members and $5.00 for the general public. We'll also have movie promotional items, movie posters, and raffle prizes, including DVDs and movie tickets. For more information and an update on the trailers to be shown, check out our website or e-mail.


---


Contact us:

Membership
For members only:

E-Mailing List

Ushers

Website

Storyboard

All Else