COMING ATTRACTIONS
Summer Trailer Night 2013


---

Tuesday, June 4, 2013, 7 - 9pm. (tickets on sale at 6:00pm)
at
Landmark's E Street Cinema (E Street between 10th & 11th St, N.W.)


---

MARK YOUR CALENDAR &
SHARE THIS WITH FRIENDS & CO-WORKERS!

Admission: $5 for BASIC members and Free for GOLD members. $8 for all others. Tickets sold at the door starting at 6:00pm (cash or check). Ticket includes lots of movie promotional items, movie posters and raffles of movie tickets and DVDs!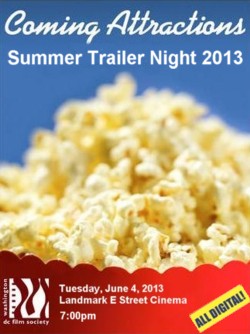 The Washington, D.C. Film Society holds its twice annual program to preview upcoming flicks with COMING ATTRACTIONS TRAILER NIGHT, Summer 2013.

We'll highlight the summer blockbusters as well as must-see indies, announced D.C. Film Society Director Michael Kyrioglou. At Landmark's E Street Cinema (E Street between 10th & 11th St., N.W.) from 7 – 9 p.m., Tuesday, June 4, 2013.

DC's popular film critics and Film Society's hosts, Bill Henry and Tim Gordon, will titillate you with comments and maybe a quiz or two about the upcoming summer blockbuster movies. You the audience, get to vote on the films that will bring you joy or not, after which we'll alert the studios.

For only $5 (Basic Members), here's what you'll get: lots of movie promotional items, movie posters, raffles of movie tickets and DVDs as well as the trailers! FREE for Gold Members, and $8 for the general public. Attendees can also purchase a special $5.50 economy popcorn/small soda combo at the concession stand. For more information and an update on trailers to be shown at COMING ATTRACTIONS TRAILER NIGHT, check back here or e-mail.

TRAILERS TO BE SHOWN

The latest Superman flick, Man of Steel
300: Rise of an Empire
Elysium with Jodie Foster & Matt Damon
Star Trek: Into Darkness
animated films Epic and Monsters University
Baz Lurhmann's The Great Gatsby
Vince Vaughn in The Internship
Iron Man 3
After Earth with Will Smith
The Hangover Part 3
Turbo with Ryan Reynolds
Joss Whedon's Much Ado About Nothing
Now You See Me with Jesse Eisenberg & Mark Ruffalo
The Wolverine
The Lone Ranger
World War Z
Pacific Rim with Idris Elba

---

Contact us:

Membership
For members only:

E-Mailing List

Ushers

Website

Storyboard

All Else