COMING ATTRACTIONS
Summer Trailer Night 2016


---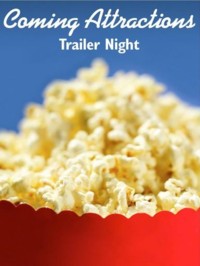 Date: Wednesday, June 1, 2016
7 - 9pm
(tickets on sale at 6:00pm)

Landmark's E Street Cinema
E Street NW betw 10th & 11th


MARK YOUR CALENDAR &
SHARE THIS WITH FRIENDS & CO-WORKERS!



---

The spring has been a bit cool like the film landscape so far this year, but summer is just around the corner and with it the movie season will be heating up fast! Preview the trailers on tap at the Washington, DC Film Society's twice-annual program, "COMING ATTRACTIONS TRAILER NIGHT, SUMMER 2016." We'll highlight the summer blockbusters, chock full of sequels and remakes, as well as indie faves designed to explore moviegoers' range of emotions. We guarantee plenty of action and excitement.

DC Film Society Director Michael Kyrioglou announced the date for COMING ATTRACTIONS will be Wednesday, June 1, 2016. Join us at Landmark's E Street Cinema (E Street between 10th and 11th Street, NW) from 7:00 p.m.-9:00 p.m. DC Film Critics extraordinaire Tim Gordon and Travis Hopson bring the movie buzz and lead discussion on the trailers. You, the audience, get to vote on the movies you want to see (or escape from); we'll pass this information on to the studios.

Some of the 30 trailers we'll be showing may include Jason Bourne, Central Intelligence, Florence Foster Jenkins with Meryl Streep, Finding Dory, Free State of Jones, PopStar: Never Stop Never Stopping, Warcraft, Colin Firth & Nicole Kidman in Genius, Independence Day: Resurgence, a new Ghostbusters, Star Trek Beyond, The Secret Life of Pets, The Legend of Tarzan, The BFG, Bad Moms, Ben-Hur, Suicide Squad and much more.

Tickets are only $5.00 for the program and we'll also have movie promotional items, movie posters, and raffle prizes, including DVDs and movie tickets. For more information and an update on the trailers to be shown, check out our website or e-mail.

Check back for an update on the trailers to be shown.


---

Contact us:

Membership
For members only:

E-Mailing List

Ushers

Website

Storyboard

All Else