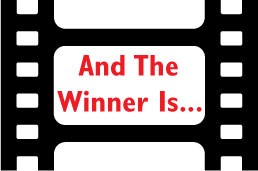 DC Film Society's 23nd Annual Party
Watch the Oscars Broadcast ... LIVE ON THE BIG SCREEN!
It's the next best thing to being there!

Sunday, February 22, 2015

The Arlington Cinema 'N' Drafthouse
2903 Columbia Pike, Arlington, VA.
(1/4 mile east of Glebe Road)

Ticket sales start at 6:30pm. The doors open at 7:00pm and the Red Carpet pre-show starts at 7:00pm. The Oscars broadcast is at 8:30pm.

Local movie critics Bill Henry and Tim Gordon are our hosts. Lots of entertainment throughout the night including Predict the Winners contest, trivia contests, giveaways and our fabulous Silent Auction with lots of one-of-a-kind items.

Advance ticket ordering is now closed. Tickets will be available at the door.

See below for a partial list of Silent Auction items.


---

It's cold outside, but the battle for the Oscars is heating up!


JOIN IN THE FUN AT THE DC FILM SOCIETY'S 23rd ANNUAL "AND THE WINNER IS…" OSCAR NIGHT PARTY
Can a unique film 12 years in the making take home the big prize? Can Michael Keaton complete his comeback with his portrayal of an actor making his comeback? Will the nomination of two films about scientific geniuses cancel each other out? All these questions and more will be answered on Oscar night and you'll be missing out on loads of fun if you stay home. So, come on out to the Washington, DC Film Society's 23rd annual "And The Winner Is…" Oscar night party where you get a lot more than the show itself. The 87th Academy Awards will be back LIVE ON THE BIG SCREEN on Sunday, February 22, 2015 at the Arlington Cinema 'N' Drafthouse located at 2903 Columbia Pike in Arlington, VA. Ticket sales at 6:30 p.m. Doors open and the Red Carpet pre-show at 7:00 p.m. Oscars broadcast at 8:30 p.m.

DC Film Society Director Michael Kyrioglou announced that our ever-popular DC film critics Bill Henry and Tim Gordon will be back to give you the skinny on who's up, who's down, who's in, and who's out, as you decide your picks in the "Joe Barber Predict The Winners" contest and place your bids in the Silent Auction. Not to mention the door prizes and promotional goodies from the movie studios!

DC Film Society members had the opportunity to see 16 of the Award-nominated films first at free screenings over the course of the year: American Sniper, Begin Again, Big Hero 6, Boyhood, Captain America: The Winter Soldier, Finding Vivian Maier, The Grand Budapest Hotel, Guardians of the Galaxy, How to Train Your Dragon 2, The Imitation Game, Inherent Vice, Into the Woods, The Judge, Maleficent, The Theory of Everything, and Wild.

As always, this 23rd annual event will be held in support of Filmfest DC, DC Film Society's parent organization.

Tickets are only $20. Purchase tickets on-line beginning February 1, or at the door.


---
TICKETS:
$20 for non-members and guests
$15 for DC Film Society Basic members and members of Women in Film and Video (WIFV)
FREE for DC Film Society Gold members.

E-mail your RSVP to membership@dcfilmsociety.org with your FULL NAME and Gold card number(s) by noon Saturday, February 21.


Door Sales:

Tickets may be purchased at the door the night of the event beginning at 6:30pm (cash/check only). This event was nearly sold out last year so reserve your tickets early!


Advance Sales:

Advance sales are now closed but tickets WILL BE AVAILABLE AT THE DOOR.


---
Silent Auction 2015

Our SILENT AUCTION (cash/check only) includes restaurant, movie, comedy club and theatre gift certificates.


Selma (best picture nominee) mounted poster signed by director Ava DuVernay and actor David Oyelowo

The Theory of Everything poster signed by actor Eddie Redmayne (best actor nominee)

Into the Woods (multiple nominations) poster signed by actors Emily Blunt, James Lapine, James Corden, Chris Pine, Tracy Ullman and director Rob Marshall

Love Is Strange poster signed by director Ira Sachs

St. Vincent poster signed by director Ted Melfi

Stone poster signed by Edward Norton (acting nominee)

Brundibar book signed by award-winning writer Tony Kushner (previous nominee)

Selection of DVDs and film items, Landmark, Angelika & Avalon Theatre movie passes, dining at Hank's Oyster Bar and The Pig, tickets and passes for Signature Theatre, Capital Fringe, Round House Theatre, WPAS (Philadelphia Orchestra), Washington Jewish Film Festival event, Filmfest DC opening night, Studio Theatre, Shakespeare Theatre Company, MetroStage, Olney Theatre Center, Synetic Theater.


---

These were some of the items available in 2014:


Philomena poster & press notes signed by actor/co-writer Steve Coogan (2014 nominee)

The Bling Ring poster & press notes signed by actor Israel Broussard

2 Days in Paris poster signed by actress/writer/director Julie Delpy (2014 nominee)

Her poster signed by director/writer Spike Jonze (2014 nominee)

Jobs press notes signed by actor Josh Gad and director Joshua Michael Stern

A League of Their Own DVD signed by director Penny Marshall

The Monuments Men book signed by author Robert Edsel

Body Heat & Romancing the Stone DVDs signed by actress Kathleen Turner

Selection of DVDs and film items, Landmark Theatres, West End Cinema & Avalon Theatre movie passes, tickets and passes for Arena Stage, the Source Festival, Round House Theatre, Woolly Mammoth Theatre, WPAS, DC Shorts event, Filmfest DC opening night, Arabian Sights Festival, Folger Theatre, Synetic Theater, Studio Theatre, Environmental Film Festival

---

Contact us:

Membership
For members only:

E-Mailing List

Ushers

Website

Storyboard

All Else