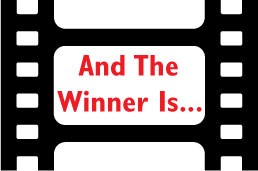 DC Film Society's 21st Annual Party
Watch the Oscars Broadcast ... LIVE ON THE BIG SCREEN!
It's the next best thing to being there!

Sunday, February 24, 2013

The Arlington Cinema 'N' Drafthouse
2903 Columbia Pike, Arlington, VA.
(1/4 mile east of Glebe Road)

Doors open at 6:30pm.

Advance ticket ordering is now closed. Tickets will be available at the door.

See a detailed list of Silent Auction items here:


---
We are now 21!
The 21st Annual Oscar Night Party:
"And the Winner Is..."
It's LINCOLN against the field! Or is it ARGO? Will Spielberg or Affleck triumph? Or will this historical epic go the way of Saving Private Ryan? We'll all know when the Oscars are handed out February 24th. You say your tickets to the Hollywood Dolby Theater haven't arrived? Not to worry. You can join hundreds of your fellow film fans at the Washington, DC Film Society's annual bash, "AND THE WINNER IS…." and watch THE 85th Academy Awards broadcast LIVE ON THE BIG SCREEN. Doors will open at 6:30pm on Sunday, February 24, 2013 at the Arlington Cinema 'N' Drafthouse (2903 Columbia Pike in Arlington, VA). The Red Carpet Broadcast starts at 7:00pm and the main event gets underway at 8:00pm.

DC Film Society friends, the knowledgeable and entertaining local film critics, Bill Henry and Tim Gordon, will once again guide us through the ins and outs of Hollywoodland. Will it be Jessica Chastain or Jennifer Lawrence? Alan Arkin or Robert deNiro? Can anyone top Anne Hathaway's solo in Les Miserables? Or will there be a surprise dark horse? You will have the chance to outguess the experts in our "Predict The Winners" contest, participate in trivia contests throughout the evening and bid in our silent auction (cash or check only please) on all kinds of neat items such as film and theatre gift certificates and tickets and movie promotional goodies. There will be autographed film posters and DVDs signed by filmmakers who have been in the DC area for screenings over the last year - some by a few very big names in Hollywood (more details to come). Of course the Arlington Cinema 'N' Drafthouse is always well stocked with a broad selection of tasty food and a variety of beverages to satisfy your cinematic appetite.

This 21st annual FUN-raiser will once again be held in support of Filmfest DC, the Film Society's parent organization, the Washington, DC International Film festival. Tickets are $15 for Film Society BASIC members, $20 for non-members and guests and FREE for GOLD members. You can purchase tickets online via PayPal beginning February 1 (advance ticket sales now closed) or purchase at the door (cash or check only) beginning at 6pm on February 24th. Check back here for updates.



---
TICKETS:
$20 for non-members and guests
$15 for DC Film Society Basic members and members of Women in Film and Video (WIFV)
FREE for DC Film Society Gold members.

Door Sales:

Tickets may be purchased at the door the night of the event beginning at 6:00pm (cash/check only).


Advance Sales:

Advance sales are now closed

---
Silent Auction 2013

Our SILENT AUCTION (cash/check only) includes restaurant, movie, comedy club and theatre gift certificates.


6-Blu-Ray Set of Star Wars Trilogy Autographed by creator George Lucas

Chicken with Plums (mounted poster and press notes) autographed by co-directors Marjane Satrapi and Vincent Paronnaud (2008 Nominated animated film Persepolis)

End of Watch (mounted poster) autographed by actor Michael Pena

Friends with Kids (mounted poster) autographed by director/actress Jennifer Westfeldt

Little Miss Sunshine DVD autographed by actor Paul Dano and co-directors Valerie Faris and Jonathan Dayton

Anna Karenina (mounted poster) autographed by Joe Wright (Pride & Prejudice, Atonement)

Ruby Sparks (mounted poster) autographed by writer/actress Zoe Kazan, actor Paul Dano and co-directors Valerie Faris and Jonathan Dayton (Little Miss Sunshine)

The Sessions (mounted poster) autographed by actor John Hawkes (2011 nominatee, Winter's Bone), producer Judi Levine and writer/director Ben Lewin

This is How You Lose Her book autographed by award-winning writer Junot Diaz

Wishful Drinking book autographed by writer/actress Carrie Fisher

Tickets to Arena Stage

Tickets to Ford's Theatre

Tickets to Round House Theatre

Passes to the annual Source Festival

Tickets to Studio Theatre

Tickets to Theatre J

Passes to Capital Fringe

Tickets to the Clarice Smith Performing Arts Center

Tickets to Dance Place

Unsigned mounted posters of 2013 nominated films Argo and Beasts of the Southern Wild, as well as Twilight, Breaking Dawn Pt. 2 PLUS a variety of film items, DVDs, movie passes, theatre and event ticket gift certificates.


---

Contact us:

Membership
For members only:

E-Mailing List

Ushers

Website

Storyboard

All Else