"AND THE WINNER IS..."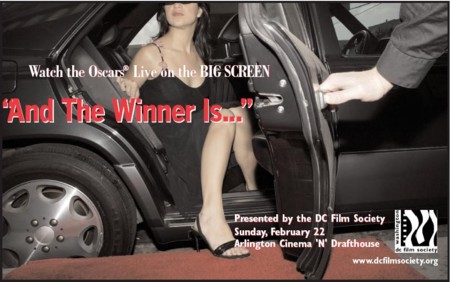 DC Film Society's 17th Annual Party
Watch the Oscars Broadcast ... LIVE ON THE BIG SCREEN!
It's the next best thing to being there!

Sunday, February 22, 2009

The Arlington Cinema 'N' Drafthouse
2903 Columbia Pike, Arlington, VA.
(1/4 mile east of Glebe Road)

Doors open at 6:30pm.
Tickets will be available at the door.


---

BONUS: The first 50 attendees (advance or at the door sales) each get a pair of tickets to A BRONX TALE for Tues, Feb. 24 at the Warner Theatre.


---
Throw Those Recession Blues Away...
Join the Washington, DC Film Society on Oscar Night
For
"AND THE WINNER IS..."
We may not have Fred and Ginger to dance us back to prosperity, but Hollywood will not spare any expense to make the 81st Academy Awards an entertaining spectacle. Throw those recession blues away by joining the Washington, DC Film Society for another edition of "And The Winner Is...." on Sunday, February 22, 2009. Doors will open at 6:30pm. Pre-show is at 7pm and the Oscars ceremony gets underway at 8pm.

The 17th Annual FUN-raiser will once again feature the Oscars ceremony LIVE ON THE BIG SCREEN at Arlington Cinema 'N' Drafthouse (2903 Columbia Pike in Arlington, VA). But there's much, much more. Local film critics Joe Barber and Bill Henry will be back to host the event with plenty of commentary.

Silent Auction items (cash/check only) include movie passes (Landmark Theatres and the Avalon Theatre) and theatre and event tickets (Shakespeare Theatre Comopany, WPAS/Kodo Drummers, Theater J, Round House Theatre, MetroStage, Woolly Mammoth, Sixth and I Synagogue/Alliance Francaise Celestial Carte Blanche, Crime and Punishment Museum, the Corcoran, The Phillips Collection, the Newseum, Madame Tussauds), restaurant gift certificates (Hanaro, The Front Page, District Chophouse, Peking Gourmet Inn), as well as many autographed movie posters and DVDs signed by filmmakers who have been to the DC area for screenings over the last year.

Signed posters include: Slumdog Millionaire (signed by director Danny Boyle, as well as a signed poster of his previous effort, Millions), Towelhead (signed by director/writer/Six Feet Under creator Alan Ball), Nights in Rodanthe (signed by book author Nicholas Sparks), The Wrestler (signed by director Darren Aronofsky and actress Marisa Tomei), The Lucky Ones (signed by director Neil Berger), The Visitor (signed by the director and cast), and more, plus autographed DVDs of Trainspotting, Requiem for a Dream, The Illusionist, My Cousin Vinny, American Beauty, TNT's Leverage, a book from Nicholas Sparks and much more.

Then there's the always popular "Guess The Winners" contest as well as door prizes.


---
TICKETS:
$20 for non-members and guests
$15 for DC Film Society Basic members and members of Women in Film and Video (WIFV)
FREE for DC Film Society Gold members. E-mail your RSVP to membership@dcfilmsociety.org with your FULL NAME and Gold card number(s) by noon Saturday, February 21.

Door Sales:

Tickets may be purchased at the door the night of the event beginning at 6:00pm (cash/check only).



---

Contact us:

Membership
For members only:

E-Mailing List

Ushers

Website

Storyboard

All Else