(Slightly) Weakening the Glass Ceiling
Even through the Oscars honor films that have generally been in development for over a year, often many years, it's a strange truth that we expect these awards to reflect our current times. In 2017 I breathed sweet relief that, after two prior years of #OscarsSoWhite, the Academy of Motion Picture Arts and Sciences had a diverse group of acting nominees. This year I wondered if, after the Women's Marches, the Harvey Weinstein scandal, #MeToo and #TimesUp, the Oscars would offer more recognition to female-driven films and filmmakers. Thankfully the answer is yes. Greta Gerwig became the first woman to garner a Best Director nomination since Kathryn Bigelow eight years ago. Four of the ten screenplay nominations were to women (either solely or collaboratively). Five of the Best Picture nominees have strong female characters at their core. Five of them also had at least one female producer. Rachel Morrison is the first woman ever to nab a cinematography nomination (for Mudbound).

Granted, it's not time to pop the champagne corks just yet. According to the last Celluloid Ceiling report, opportunities for female directors, producers and other film professionals still lag far behind men, and have not improved much in the last 20 years. But at least now women seem to have a better chance of having their work receive the recognition it deserves. That's the best part of all of this. The nominees' work speaks for itself. Some can claim that many of the women's nominations were part of some quota/affirmative action/feel-good PC campaign, but no one who actually saw the films could still make that claim with a straight face.

So kudos to the Academy, first by diversifying its membership over the past few years. Second, for producing nominees that better reflect the best of what film had to offer last year. As always, I have my favorites that didn't make it. Rocker Joe Walsh once sang "I can't complain but sometimes I still do." With that in mind, I hand out some grades.

BEST PICTURE
Call Me by Your Name
Darkest Hour
Dunkirk
Get Out
Lady Bird
Phantom Thread
The Post
The Shape of Water
Three Billboards Outside Ebbing, Missouri

Grade: B+
Academy voters could have added a tenth choice, and should have done so with either The Florida Project or Mudbound. With The Florida Project, Sean Baker crafted a film somehow both joyous and tragic that, in style and subject, echoed the best of the Italian neorealist films of the 40s and 50s. It's one of the most poignant, naturalistic, and funny depictions of childhood ever put on film. Dee Rees's Mudbound had the gravitas, visual style, and epic feel of a John Ford classic, with elements of William Wyler's The Best Years of Our Lives, but through a current lens of race relations. Unfortunately, Netflix's shortsighted policy of a limited theatrical distribution, simultaneous with streaming a film online, meant that most voters only saw Mudbound on television. While that did not stop the film from getting four Oscar nominations, it may have hindered its contention for the big prize.

That objection aside, the nine nominees illustrate another kind of progress in diversity: genre. The Academy has nominated science fiction/fantasy and horror films sparingly in its history, so to include both The Shape of Water and Get Out feels historic. Both films were original stories, so neither had the literary pedigree (as the Lord of the Rings films or The Exorcist did) that can sometimes help overcome genre bias. A few years ago, nominating a homosexual love story such as Call Me by Your Name might have raised eyebrows, but a year after Moonlight that doesn't seem strange at all.


DIRECTOR
Paul Thomas Anderson, Phantom Thread
Guillermo del Toro, The Shape of Water
Greta Gerwig, Lady Bird
Christopher Nolan, Dunkirk
Jordan Peele, Get Out

Grade: B-
I don't know how you can leave out Martin McDonagh for Three Billboards Outside Ebbing, Missouri. The film was clearly his vision, and it got seven other nominations. Three Billboards and The Shape of Water were the only films to get three acting nominations. McDonagh must have done something right. That leads to a larger point. I read some film posts online maintaining that Gerwig did not deserve her nomination because her film was largely scenes of people talking. Somehow that type of film did not seem as "directed" as Dunkirk or The Shape of Water. Skilled direction can manifest itself many ways. Certainly a visual spectacle or pinpoint camera movement can show a master filmmaker's touch. But so can excellent casting and drawing out fine performances. Style should serve story and character, not the other way around. Gerwig and McDonagh may have used a more straightforward style, but that should in no way diminish their achievements.


ACTOR
Timothée Chalamet, Call Me By Your Name
Daniel Day Lewis, Phantom Thread
Daniel Kaluuya, Get Out
Gary Oldman, Darkest Hour
Denzel Washington, Roman J. Israel, Esq.

Grade: A
My initial thought was that James Franco, considered a leading contender for The Disaster Artist, was snubbed due to the recent sexual harassment allegations. Then I learned that those allegations came to light on January 11, and the nomination voting closed on the 12th. So while there's a chance some late voters may have been swayed, it's much more likely that this was simply a very competitive category. Washington's nomination, his eighth total, was the only one in a non-Best Picture nominee. He went against type for Roman J. Israel, Esq. He often shines, either as hero or villain in larger than life roles. For Roman, Washington turned inward, dialing down his charisma, but still creating a compelling character. While the film did not make much of an impact, credit the Academy for seeing beyond that to a major star who took a big chance and pulled it off.


ACTRESS
Sally Hawkins, The Shape of Water
Frances McDormand, Three Billboards Outside Ebbing, Missouri
Margot Robbie, I, Tonya
Saoirse Ronan, Lady Bird
Meryl Streep, The Post

Grade: A
I would have loved to see the Academy recognize The Florida Project star Brooklynn Prince, who redefined what audiences can expect from a child actor, but the five selections are a strong group. Hawkins delivered two standout performances this year, including her work in Maudie. She played a real life artist suffering through physical ailments who willed herself to greatness. In both Maudie and The Shape of Water Hawkins showed a gift in finding and illuminating the inner life of people who would often be ignored.


SUPPORTING ACTOR
Willem Dafoe, The Florida Project
Woody Harrelson, Three Billboards Outside Ebbing, Missouri
Richard Jenkins, The Shape of Water
Christopher Plummer, All the Money in the World
Sam Rockwell, Three Billboards Outside Ebbing, Missouri

Grade: A
You have to figure the Oscar voters took into account the degree of difficulty for Plummer, as All the Money in the World got no other nominations. Director Ridley Scott decided to replace Kevin Spacey with Plummer six weeks before the film's release. That gave Plummer a scant two weeks to prepare and nine days to shoot all of his scenes. By the way, Plummer did all of this at age 88. It's gratifying to see Rockwell snag his first nomination after more than 20 years as one of Hollywood's most interesting and reliable character actors. Whether he's acting in blockbusters or small indie films, Rockwell always adds something extra to his roles.


SUPPORTING ACTRESS
Mary J. Blige, Mudbound
Allison Janney, I, Tonya
Lesley Manville, Phantom Thread
Laurie Metcalf, Lady Bird
Octavia Spencer, The Shape of Water

Grade: A
Like Rockwell, Janney has been doing stellar film work for over two decades but is just now receiving her first Oscar nomination. It's a little different for her, since she won seven Emmys for her television roles. Lesley Manville was a surprise inclusion over Hong Chau, who had many of the precursor nominations for her role in Downsizing. Chau certainly deserved a nomination but was hurt by the overall lack of enthusiasm for her film.


ADAPTED SCREENPLAY
Scott Frank, Michael Green and James Mangold, Logan
James Ivory, Call Me By Your Name
Scott Neustadter and Michael H. Weber, The Disaster Artist
Dee Rees and Virgil Williams, Mudbound
Aaron Sorkin, Molly's Game

Grade: A-
The screenplay category has traditionally been a consolation prize, which is particularly true this year. For Logan, The Disaster Artist and Molly's Game, these were the films' only nominations. However, as with the Best Picture nominations the Academy here is also showing a new openness with genre. By all accounts Logan is the first superhero movie ever to receive a screenplay nod. In a year with Wonder Woman, Spider Man: Homecoming and Thor: Ragnarok also offering rich, three dimensional stories, this is a good time for the Academy to recognize what these type of films have to offer.


ORIGINAL SCREENPLAY
Guillermo del Toro and Vanessa Taylor, The Shape of Water
Greta Gerwig, Lady Bird
Emily V. Gordon and Kumail Nanjiani, The Big Sick
Martin McDonagh, Three Billboards Outside Ebbing, Missouri
Jordan Peele, Get Out

Grade: B+
This is clearly the tougher of the two screenplay categories, as eight of the nine Best Picture nominees had original screenplays. The Big Sick gets the consolation prize. That this is the highly acclaimed film's only nomination shows that the Academy's newfound genre openness does not extend to comedy. Peele's screenplay for Get Out works if you don't think about logistics at all and ignore (spoiler alert) questions such as "How would no one notice all of these black young people disappearing into very white Connecticut?" and "Is the film's hero the only one who had a friend concerned enough to look for him?"


My favorite nomination came in none of the categories I just discussed. After more than 30 years, Steve James finally received a Best Documentary nomination. In 1994 his groundbreaking work Hoop Dreams chronicled two Chicago inner city youth trying to make it to the NBA. Film critic Roger Ebert named Hoop Dreams as the best film of the year. Keep in mind that 1994 was also the year of Pulp Fiction, Forrest Gump, Quiz Show, and The Shawshank Redemption. Hoop Dreams won documentary prizes from the Directors Guild of America (DGA), Sundance, and many critics groups, but no Best Documentary nomination from the Academy (in a bizarre twist James was nominated for editing instead).

In 2011, James made another powerful documentary, The Interrupters, with a DGA nomination an Independent Spirit Award win, but again no acknowledgement from the Academy. In 2014, James topped himself with a warm and heartfelt but also encompassing warts-and-all look at Ebert's life with Life Itself. As the beloved Ebert was one of James's early champions, a film celebrating the critic's work should have been the perfect one to break through with the Academy. But, once again, nothing.

At long last, the Academy recognized James this year for Abacus: Small Enough to Jail. This was surprising, as the film did not have the high profile of some of his others, but no less deserving. James explored how Abacus, a small, family run bank serving New York's Chinese community, somehow became the only company criminally indicted for the 2008 financial crisis. The film deftly blended an intimate portrait of the Sung family, the bank owners, with a larger look at the role of smaller banks vs. the larger ones that actually caused the meltdown ten years ago. Like the best documentaries it answered many questions but raised others for the audience to ponder. With James, as with so many of the nominations, the Academy got it right this year.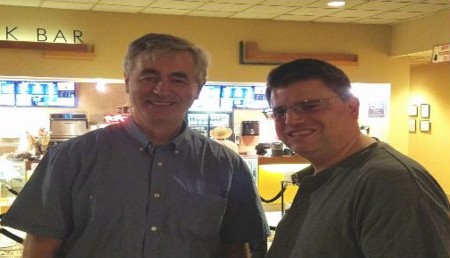 Steve James and me in June 2017 after a screening of Abacus: Small Enough to Jail.



Adam Spector
February 1, 2018


---
Contact us:

Membership
For members only:

E-Mailing List

Ushers

Website

All Else